Hydraulically Driven Tractor Winches
Hydraulically Driven Tractor Winches
High efficiency gearing and heavy-duty construction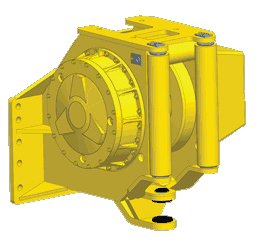 The H-Series hydraulically driven winch is a triple reduction planetary winch drive system enclosed in a large welded housing which mounts on the rear of a crawler tractor. The winch is driven by a hydraulic motor which depends upon the tractor hydraulic system for power.
The delivery of the oil supply to the winch motor varies with specific tractor design.
The H-Series is designed to set the standard for precise load control in applications like pipeline construction, phosphate mining, power line sagging and heavy construction.
The CARCO SKW-Series incorporates high-efficiency gearing and heavy-duty construction to deliver exceptional power and durability for log skidder and other recovery applications.
 
Features
Standard features on H-Series:
No drive line connection results in lower operating temperature and reduced maintenance

Infinitely variable positive speed control allows the operator to closely match winch and tractor speeds.

Overrunning clutch coupled with dynamic braking to eliminate load fallback.

Equipped with variable speed piston motors allowing a wide speed range and precise load placement

Intuitive operation combined with overload protection are ideally suited for inexperienced users in the growing rental market

Integral heavy-duty drawbar is standard on all models.

Integral three roller fairlead is standard on most models


 
Standard features on SKW-Series:
Designed specifically as a hydraulic winch (not a conversion) to deliver maximum performance

Symmetrical profile and compact design for balanced positioning, easier mounting, and smallest mounting envelope in class, designed to fit all current and planned skidders

Flexible - adaptable to any open-loop or closed-loop hydraulic system

Easy to install, modular option kits facilitate field upgrades for changing operations

Oil-lubricated, sealed free spool clutch means cooler operation and reduced wear during free spool and drive-away operations

More cable capacity than competing skidder winches



 
Applications
Pipeline constructions, mining, heavy constructions
 
Manufacturer
Braden Carco Gearmatic (Paccar Winch Division)
Standard Models H-Series:

Winch Model

Caterpillar

Case

New Holland

John Deere

Komatsu

H40

D3K, D4K, D5K, D3G, D4G, D5G

550L*, 650L*, 750L*, 850L*

D85B*, D95B*

450J*, 550J*, 650J*

D39EX/PX-22*

H50

D6K

1150K

 

700J

D51EX/PX-22*

H60

D6N

1650L*

D150B*

750J

 

H90

D6R (Alle Serien); D6T, D7E

 
 

750J, 850J

D65EX/PX/WX-15

H110B

D7R II

 
 
 

D85EX/PX-15

H140

D8R II, D8T
D9R, D9T

 
 

950J, 1050J

D155AX-6

H200

D9T, D10T

 
 
 

D275AX-5
* Case-specific calculations can be performed on request! 
Standard specifications SKW-Series:

 

Max. line pull 1st layer (kg)

Max. pressure (bar)

Max. line speed 1st layer (m/min)

Max. displacement (l/min)

Line capacity (Ø - m)

SKW40A-DA-118039

18.140

241

15

166

19 - 91

SKW40A-67V52/24

18.140 - 6.123

310

22 - 46

166

19 - 91

SKW40A-84V49/27

18.140 - 4.990

251

17 - 43

182

19 - 91
* Case-specific calculations can be performed on request!