Planetary Winches
High performance recovery winches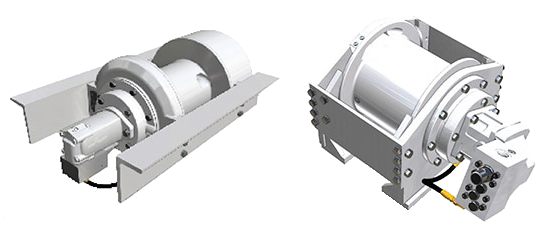 The H-Series is a compact planetary winch designed for long life and efficient operation in small-core drill rig and recovery applications. Dynamic and static braking features provide safe, smooth operation. High-efficiency anti-friction bearings are used throughout the winch to ensure long service life. The H-Series features two gear ratios and a variety of motor options.
The GPH-Series incorporates high-performance gearing and heavy-duty construction to deliver exceptional power and durability in the most demanding applications. The compact, low-profile design provides superior load control and performance in gin pole hoisting applications. A hard-working asset in the field and on the books, GPH-Series is an easy decision for operators and fleet owners.
The HP-Series is ready to conquer the challenges of the oilfield. This compact and powerful recovery winch delivers best-in-class line-pull and robust performance in the toughest applications. Precise load control and ease of service make the HP-Series the top choice for operators and fleet owners alike.
 
Features (depends on model type)
The main characteristics of the planetary winches are:
Crowned and shaved gearing for smooth, quiet operation and long life

Spring-applied, hydraulic-released multi-disc static wet brake holds load in event of hydraulic pressure loss

Integral mounting feet on cast ductile iron side plates for maximum stability

Sealed three-stage high-efficiency planetary reduction gearing provides superior performance for long pulls

Sprag clutch provides positive load holding for secure operation

Reversible base angles allow flexibility for profile bed mounting as well as up or down orientation

Negative-draft jaw clutch ensures full engagement under load

Ferrule anchor system facilitates rope installation and removal

Easy-to-access lubrication points allow servicing with wire rope in place

Gear or Vane motor available

Multi-disc wet brake for firm hold

Air actuated sliding drum clutch


 
Optional features:
Free-spool configuration for improved productivity in roll-off trailer applications

Gear, piston, and low-speed-high-torque (LSHT) motor configurations

Two drum sizes

SAE A, B, or C motor mount

Underwound drum

2-Speed Hydraulic Motor

Electronic load monitor for progressive lighted display and audible overload indicator

Clutch engagement indicator provides load status without need for direct line-of-sight to winch

Piston motor with SAE "D" mounting configuration


 
Applications
Small-core drill rig, recovery applications, oilfield
 
Manufacturer
Braden Carco Gearmatic (Paccar Winch Division)
Standard specifications Planetary Winches

 

Max. line pull 1st layer (kg)

Max. pressure (bar)

Max. line speed 1st layer (m/min)

Max. displacement (l/min)

Line capacity (Ø - m)

H20R-SPL

8.165

337

76

227

16 - 23

H20R-FS

9.070

207

30

170

16 - 61

H55R-RM/27

11.480 - 27.220

179

6 - 12

132

22 - 80

GPH440A

18.145

 

141

6

19 - 51

HP50B

10.750 - 22.680

138 - 168

8 - 19

190 - 227

22 - 107

HP80A

17.350 - 36.285

184

8 - 18

227

25 - 101

HP160A

32.964 - 72.736

206

5 - 10

265

30 - 87
* Case-specific calculations can be performed on request!